BEd – Bachelors of Education, Simon Fraser University
Teaching Certificate, Simon Fraser University
MEd – Masters of Counselling Psychology, Simon Fraser University
Registered Clinical Counsellor (RCC)- #19850
Canadian Certified Counsellor (CCC) – #10006586
Neuroscience and Satir in the Sand Tray (NSST) Therapist 
This is a model of play therapy developed by Madeleine de Little (www.wherewordscannotreach.ca). NSST is comprised of a combination of Neuroscience, Satir's Transformational Systems Therapy and Sand Tray Therapy. The approach is based on safety; safety between the therapist and client, as well as transforming ways that clients have kept themselves safe. NSST works by acknowledging the trauma that has happened in the past that the client's nervous system perceives as ongoing, and works to transform the underlying lack of safety that has occurred. We hold our emotions in both our bodies as well as the right hemisphere of our brain. Through the strong therapeutic relationship, language is introduced while using the figurines in hopes of externalizing the right brain experience. New neural pathways are created as integration occurs on both sides of the brain and in the body. An internalize sense of safety can place the traumatic experience in the past (www.wherewordscannotreach.ca).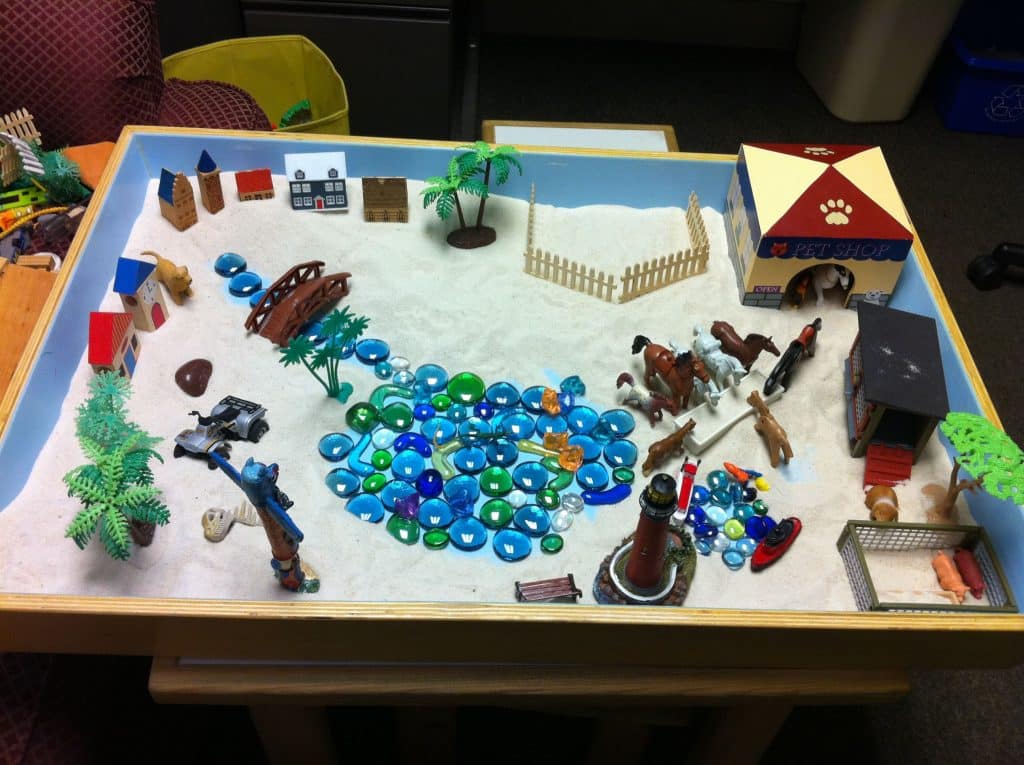 Certified Synergetic Play Therapist (www.synergeticplaytherapy.com)
Synergetic Play Therapy (SPT) is a researched-informed model of play therapy where the client's symptoms are understood as symptoms of a dys-regulated nervous system. These states arise as a result of perceived challenges and thoughts a client is having regarding the events of their life and/or loss of attachment to themselves. SPT blends nervous system regulation, interpersonal neurobiology, physics, attachment, mindfulness, and therapist authenticity (Aggression in Play Therapy, Lisa Dion).
"The synergy that emerges in the playroom when working from a Synergetic Play Therapy® framework allows a deep level of attunement to emerge similar to the unspoken connection twins feel or the attunement that occurs between a caregiver and an infant."
San'yas Indigenous Cultural Safety Course (www.sanyas.ca)

The San'yas course focuses on promoting cultural safety for indigenous people as well as uprooting anti-Indigenous racism. A foundation is provided that is necessary to understand reconciliation between Indigenous and Settler peoples across Canada.
Crime Victims Assistance Program (CVAP)
Sheila has been approved by the Crime Victim Assistance Program (CVAP) which assists victims, immediate family members and some witnesses in coping with the effects of violent crime. It provides financial benefits to help offset financial losses and assist in recovery.